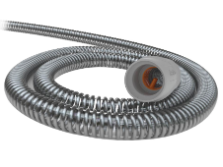 ResMed Power Station II (RPS II)
ResMed Power Station II is an external long-life, lithium-ion battery that simply works alongside ResMed sleep therapy devices or ventilators.
HumidAir 5i Slimline Tubing
The SlimLine tube is 40% lighter, 20% thinner and takes up 35% less space than traditional tubing. It's the slimmest, most flexible tube on the market.
HumidAir 5i ClimateLine™
Unique to ResMed, the ClimateLine heated tube works with our exclusive Climate Control system* to deliver a constant comfortable temperature at the mask throughout the night, even as temperature and humidity levels change. In addition, the ClimateLine heated tube is smaller, slimmer and sleeker than your average mask tubing, resulting in increased flexibility and less mask drag for a more comfortable night's sleep.
AirSolutions Climate line / heated tubing
The ClimateLineAir heated tube helps virtually eliminate rainout and deliver optimal temperature and humidity levels to the mask.
From time to time you will need to top up on your replacement components in order to maintain your system and ensure accurate and effective pressure delivery in order to address OSA.  A large range of accessories and mask components are available for purchase/collection from the Sleep Easy fitment centre i.e. replacement mask cushions, headgear straps, mask clips, grey tubing, filters, replacement data cards etc. Depending on patient usage and maintenance of the mask system, mask cushions generally need to be replaced every 9 – 12 twelve months.  Device filters should be changed every 3 – 4 months.